Reactions as Nigeria Christian Pilgrim Commission denies Tonto Dikeh's claim
– Former Nollywood actress, Tonto Dikeh, has addressed claims that she lied about her appointment as ambassador for the NCPC
– The philanthropist stated that she has video evidence but would rather respect the commission's decision
– Tonto also stated that she would not fight the situation but would rather walk away with her head held high
Former Nollywood actress and humanitarian, Tonto Dikeh, had earlier taken to social media to announce that she had been appointed an ambassador to Nigeria Christian Pilgrim Commission.
A few hours later, a statement from the Executive secretary of the commission denied making the mum of one an ambassador but confirmed that she offered to partner with them in their peace-building initiative.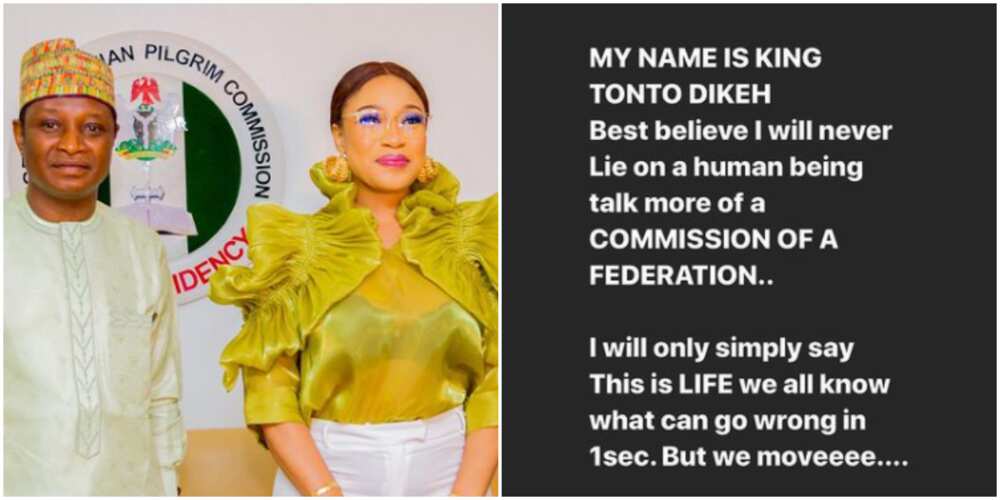 The commission also stated that Tonto's claim was a figment of her imagination.
Taking to her official Instagram page, Tonto Dikeh stated that she would never tell a lie against a commission of the federation but will not fight their claims.
She further revealed that she has video proof of the meeting and everything that transpired but would rather respect the commission's decision and take the fall for the incident.
"There are video proofs, but I would Rather respect the commission's decision And take the Fall. Thanks to every Christian body that fought against this growth."
The NCPC's and Tonto Dikeh's statements generated reactions as most Nigerians believe the commission changed its mind because of complaints about the former actress.
Priscamercy:
"Because people are complaining that she is not worthy right? some said she didn't dress properly? God is still God and he will judge."
Official_kellysmart:
"I don't believe you guys one bit. I know this is your afterthought playing out."
Iamprechtush:
"Even if it's true, what you wrote is so condescending like you got a personal problem with her. You bowed to peer pressure and now you're throwing her under the bus. So much for Christians uplifting Christians."
Iamawomanoftruth:
"Her imagination? How can you be this wicked?"
Queenfassy:
"They are trying to save face after been bashed. Take the fall in good faith."
Caras_imagination:
"My love and respect for @tontolet has increased.
Click the link below to join our telegram and watch exclusive videos