He dragged himself into politics by making political comments when he was the governor of Central Bank of Nigeria (CBN) and that led to his sack by former President Goodluck Jonathan.
It was alleged that the PDP-led government was planning to ridicule him before he emerged as the Emir of Kano, one of the powerful emirates in the Northern part of Nigeria.
Three days before 2019 presidential elections, Muhammadu Sanusi II, emir of Kano, was alleged to have indirectly campaigned against the reelection of President Muhammadu Buhari.
"It is not always easy to have a leader who has both integrity and capacity to govern – two important qualities of a leader. If a leader does not have both integrity and capacity to govern, choose the one that has the capacity to govern because his capacity to govern will benefit the people while his lack of integrity will be his own harm.
If you choose a man who has integrity without capacity to govern, his lack of capacity to govern will harm the people while his integrity will only benefit himself."
Though it was later discovered that it was a cooked quote which was attributed to those who want the emir down from the throne of his forefathers.
Muhammadu Sanusi II never campaigned against Buhari. But the quote seemed to have gotten to Aso Rock, and the political consequence was becoming glaring.
At a point, it was alleged that Aso Rock might deal with the powerful emir, who was a banker. But in his latest statement, Muhammadu Sanusi II said he has resolved to avoid political and economic controversies in the aftermath of the 2019 elections.
According to TheCable, Sanusi prayed for the APC-led government to envisage long-term plans of about 125 years and not four years for the country, and to be more committed to girl-child education.
His words: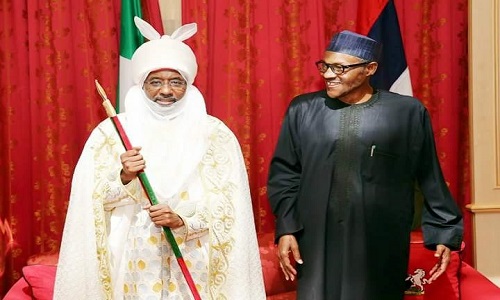 "My new post-election resolution is to avoid controversies; economics, politics," Sanusi was quoted to have said.
"My prayer is that with these elections, the government would not think of these four years, but the government would think of Nigeria 125 years from now."
The emir has been described as a controversial ruler. He publicly criticised the regime of Dr Jonathan for its inability to account for billions of dollars.
The government sacked him in absentia.
Got a story? If you've got a celebrity story, video or pictures get in touch with the Dailynaijamode.com entertainment team by emailing us celebritygists@dailynaijamode.com - we'd love to hear from you.