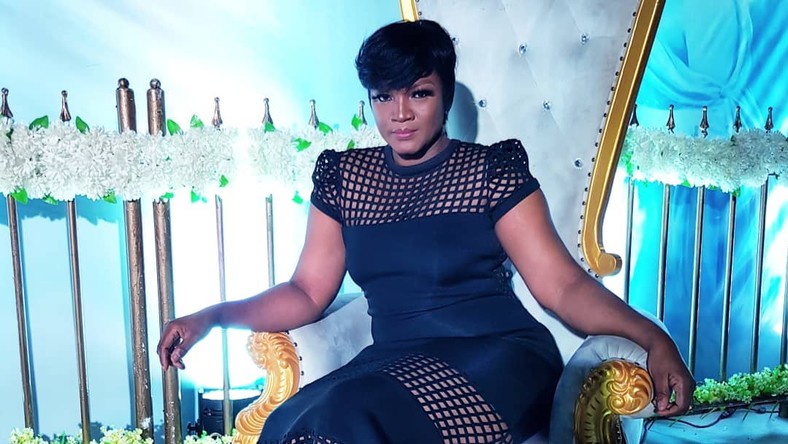 Omotola Jalade Ekeinde popularly called Omosexy is a Nollywood actress, producer, singer and public figure. Omotola Jalade Eheinde is regarded as a legend in the Nigerian Movie Industry having starred in over 300 blockbuster movies. Since her debut in the movie industry, Omotola has grown so big and amassed a very large following in fact she is the first African celebrity to have over 1 million likes on her Facebook page. She currently has over 3 million followers on Facebook.
EARLY LIFE
Omotola Jalade Ekeinde was born in Lagos on the 7th of February 1978. She is a native of Ondo State. She was born to a family of 3 children and she is the only female child with 2 younger brothers Tayo and Bolaji Jalade. The name of her mother is Oluwatoyin Jalade née Amori Oguntade and the name of her father is Oluwashola Jalade. Her mother worked at J.T Chanrai Nigeria, and her father worked with the YMCA and the Lagos Country Club. Early in her life, Omotola had the ambition to work in business management, but while awaiting her results from university, she ventured into modelling to earn a living
EDUCATION
Omotola Jalade Ekeinde attended  Chrisland School Opebi from the year 1981 to 1987, she also attended Oxford Children School Santos Layout in the year 1987, she then proceeded to Command Secondary School Kaduna from 1988 till 1993. Although She had a brief stint at Obafemi Awolowo University, she completed her studies by studying studied Estate Management at Yaba College of Technology in 2004.
FAMILY, MARRIAGE, HUSBAND AND CHILDREN

Omotola got married to her heartthrob Captain Mathew Ekeinde in the year 1996. She was just about 17 years old when she got married. The couple is blessed with four children, 2 boys and 2 girls. Their names are Princess, M.J, Meraiah and Michael. Omotola gave birth to her first daughter Princess on 30 March 1997.  Omotola's husband Captain Mathew Ekeinde is a renowned pilot who has worked with high profile airlines including Arik Air, Sosoliso, Aero Contractors, Bellview, AIC Airlines, and he is currently with Bristow Helicopters. In 2001, on board a Dash 7 aircraft while flying from Lagos to Benin The couple held a white ceremony  with close family and friends in attendance. Her second daughter has a striking resemblance to her and this has made her so popular on social media with many admirer of the Star actress asking for her attention. Omotola lost her father to the cold hands of death in 1991.
ACTING CAREER

Omotola Jalade Ekeinde started acting in the year 1995, her first film is the movie Venom of Justice, a film directed by Reginald Ebere. It was reported that Omotola had accompanied her friend to an audition, her friend didnt get the role but told her to try and she was chosen. Her mother initially refused to allow her to act but the whole crew and director went to her house to begged her mother before she finally agreed.
Reginald Ebere has been cited as the person that launched Omotola's career. She was given the lead role in the movie, which set the stage for a flourishing career in the Nollywood film industry. Omotola got her first big break in the Nigeria movie industry by playing the role of a sickle-cell patient who fights for her life despite the odds of survival in the critically acclaimed film Mortal Inheritance in 1995. Omotola's character overcame the disease and had a baby. The film is regarded as one of Nigeria's best movies ever made. Since then, she has starred in several blockbuster movies, including Games Women Play, Blood Sisters, All My Life, Last Wedding, My Story, The Woman in Me and a host of others.
Omotola received her first cinematic movie role in the 2010 film, Ije after she has acted in over 300 straight to video movies, .The film was shot on locations in Jos, California, and Los Angeles. Ije was the Highest grossing Nollywood film at the time – A feat later broken by Phone Swap (2012). In 2012, she starred in the Nollywood blockbuster thriller Last Flight to Abuja which beat Hollywood blockbusters like Spiderman, Think like a Man, Ice Age, The Avengers, and Madagascar to become the 2nd highest-grossing movie in West African cinemas in 2012.
In 2015, Omotola celebrated her 20th anniversary in the entertainment industry. She has appeared in over 300 movies. Below is the list of Omotola Jalade's Ekeinde's movies.
OMOTOLA JALADE EKEINDE'S MOVIES AND TV SERIES