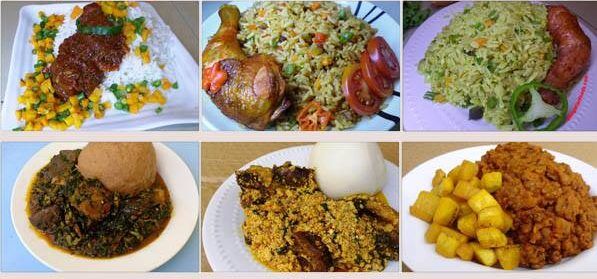 As we know the world is going through a hard time and Nigeria herself is in no way different from other Nations of the world. The Nigerian government on the 30th of march announced a total lockdown that will see all its citizens stay at home in order to prevent the spread of the deadly virus. However despite the fact that the president recently announced that the lockdown will be eased bit by bit not because a cure has been found but because the government can no longer accept the economic realities that have greeted the virus.
In lieu of this, I have thus compiled a list of 10 cheap yet nutritious food to eat at this point in time. These set of food despite being highly nutritious will not cost you a fortune to cook as they are way cheaper and easily accessible For everyone at home with only a few bucks who don't know what to cook with their tiny or little monetary budget I guess this article is for you, and for the rich individuals with elaborate monetary revenue I guess you might want to cut cost by taking a look at these set of food because as we all know no one knows how long this virus will stay.
It may be around for a few more weeks Or it may be gone by tomorrow. Hence the need to cut costs in all we do. Below is the cheap yet nutritious food you can be eating during this lockdown.
1. Beans and yam
Bean, as we know, is a protein while yam is a carbohydrate. The combination of these two food is necessary to supply the body with the necessary strength, energy, and food nutrient necessary to keep it in good condition Cooking beans and yam is not a problem at all neither is it expensive. With a total of 1,000 or,1500 naira you can get your yam, beans, and other ingredients that will last you 2-3 days. Your yam could go as low as 700, the beans depending on the type you want can go for as low as #150 per derica. Other necessary ingredients include seasoning, salt, pepper, Palm oil. With all this in place, your yam and beans is ready. To cook yam and beans. Peel your yam, boil it. Wash your beans, cook it. Fry your spiced stew while adding the necessary ingredients like palm oil, pepper, mashed fish and leave for 3-5minutes.
2. Rice and stew
Another cheap food you can eat during this lockdown which is highly nutritious and satisfying. Rice is a rich source of carbohydrate which supply the body with energy and strength. Stew, on the other hand, has a combination of so many ingredients among which are fish, pepper, salt, tomatoes, onions amongst others. All these provide the body with essential vitamins and minerals. However, making a stew could go for as low as #500 while your rice, if it is local rice, could go for as low as #250-300 per derica.
A family of four could actually eat a derica of rice and be satisfied. Cooking rice and stew is however not in any way stressful. All you have to do is boil your rice, you can per boil it if you like. When that is done. Put your pot on fire for the stew, add your groundnut oil, wait for a minute then pour your grinded pepper into the pot, add your seasoning and the salt, wash your fish, add it plus other Ingredient you so wish to add. Wait for 5 minutes and your stew is ready.
3. Pap and Moi moi
Pap, as we all know, is made from corn which is high in carbohydrates. While moi moi is a made from grinded beans a food highly rich in protein and vitamins. You can easily get your rolled and grinded pap for as low as #50 or #100 which is considerably cheap. Also your beans the major ingredient for moi moi can be gotten for as low as #150. With #500 you will be able to get you pap, grinded beans, and other necessary ingredients ready for cooking To cook Boil your water, mix your pap in some amount of water(small) Stir till it becomes smooth Pour the pap mixture into the boiling water and stir till it forms a shape. Continue stirring for about 5minute. After 5minute your pap is ready hot and ready to be taken For the Moi Moi pour your grinded beans into a bowl, add ingredients like sliced onions, sliced tomatoes, maggi, salt and other ingredients. Stir till it becomes smooth Use a small cup to scoop the grinded beans into small Lyons which you then tie at the mouth Put all the knotted nylon of grinded beans into a pot of boiling water. Wait for 15 to 20minutes. Your Pap and Moimoi is thus ready to be served
4. Bread and stew
This meal is highly rich in vitamins and minerals apart from being a good source of protein. Bread and stew is a delicious and highly nutritious food that can help to repair body tissues amongst another health benefit One important thing to note is that despite being highly nutritious, bread and stew is so cheap to make. With as low as #100 you can easily get your bread in your neighborhood or bakery. While with as low as #500 your highly delicious stew could be ready. To cook You buy your #100 bread, making your stew is however not a task difficult to do is get your ingredient among which include the peeper, tomatoes, onions, crayfish, fish, groundnut oil, seasoning, and salt. Put your pot on the fire, pour the groundnut oil, and wait for a minute. Add your blended pepper, blended tomatoes. Wait for a minute then add your washed and boiled fish while adding your other ingredients like onions, seasoning, and salt. When this is done, cover your pot and wait for about 5mins. Then your stew is ready.
5. Spaghetti and boiled egg
Spaghetti comes with a lot of blended nutrients and vitamins needed by the body not to talk of the egg which is highly nutritious and rich in protein. A spaghetti piece could go to as low as #200 while your egg 3 per piece won't cost you more than #100. In order to save costs, your spaghetti can be cooked together with your stew. You can blend your spaghetti with your pepper, sardine(optional), tomatoes, eggs, and others. To cook Put your pot on the fire, add your groundnut oil, wait for a minute add your blended fresh pepper in little quantity, add your blended tomatoes, slice your onions, add seasoning and cover the pot, wait for 5mins. After the ingredients must have blended together add your per boiled spaghetti add a little water and cover. In another 5minute your spaghetti should be done.
6. Eba and vegetable soup.
Eba and vegetable soup is one other nutritious diet which despite being highly rich in nutrients is also cheap. With a derica of garri which cost #150 you can easily make Eba that will go round a family of 4. With #100 you will get a sliced and well cut ugwu needed for your vegetable. With other ingredients like blended peppers and tomatoes, onions, cowskin(ponmo), fish, crayfish, palm oil etc your delicious and sweet smelling vegetable will be ready in no time
7. Bread, Boiled eggs and butter
A well nutritious meal to take during this lockdown is a three combo of bread, egg and butter. This food is no doubt highly nutritious with a massive concentration of protein, vitamins, and minerals. Looking at the high concentration of nutrient one might think the food will be expensive but no! This food will cost you less than #500 to make. You can easily get a loaf of bread for as low as #100 butter goes for #150 while 3 eggs will cost us only #100. With #350 your food is ready you can, however, serve it with a chilled tea or chilled water To cook The only requirement here is to boil your egg. After boiling then you're good to go
8. Yam porridge
Yam porridge is another tasty, delicious and aroma kind of meal you can cook with a budget of less than a thousand and five hundred nairas. Yam, as we know, is highly fortified with carbohydrates to give your body enough strength other ingredients used to cook it like Onions which protect and help eye sights amongst other benefits. You can get your yam for as low as #700 while you can also get other ingredients like fish, onions, pepper, tomatoes, crayfish, and other for as low as #500 depending on the area. To cook Peel your yam, wash it and boil it for 10 to 15minute.
Take a separate pot put on fire, add a spoonful of oil, onions, little amount of pepper, and other ingredients you so wish. Add your fish and any other spice you want to add to it. Leave for 5mins After 5 minutes pours the sauce into the pot containing the boiling yam and stir for 3 to 5 minutes. Mash it together and wait for another 3-5minutes. In no time your yam porridge is ready.
9. Pap and Akara
Pap and Akara is another rich diet which I bet you don't want to miss out on. Pap and Akara are highly rich in nutrients consisting of carbohydrates, protein, vitamins amongst other nutrients. Pap which is also called Ogi, Akamu and so many other names is a by-product of corn. You can get two big rolls of pap for as low as #100.
Your Akara which is gotten from ground beans which is high in protein and the total preparation to make everything in total does not even cost up to #500 To cook For the pap boil your water on a fire, the water varies in terms of the number of people that will take the pap. After boiling for 10minutes. Add your already mixed and smooth pap which has been preciously stirred in little quantity of water. After pouring the pap in the boiling water stir continuously until the pap becomes to change form and get thick.
Leave on fire for 3 to 5 minutes. After that, your pap is ready For the Akara after the beans have been washed and blended, put your pot on the fire, add a reasonable quantity of groundnut oil Mix your ground beans in a bowl add salt, Maggi, onions, carrot(optional) and other necessary ingredients.
After that is done, you can make use of a hollow spoon to put your ground beans in the pot in pieces. Wait for 10 minutes for it to form the shape. After it has form shape you can use another spoon to bring the pieces out. Repeat the process till you have no ground beans left. Your Pap and Akara is thus ready.
10. Yam and egg
Yam and egg is a staple widely eaten across the country and Africa in general. Apart from being a major source of good nutrient and also being a cheap meal, the process of making it is also simple and straight forward within 15 to 20minute your yam and egg is done and ready Getting a yam and some eggs is not a problem a tuber goes for as low as #500 to #700 while your egg three a piece goes for #100 To cook Boil your yam for 10 to 15 minute with a considerable amount of water. Sieve the remain in the water and your yam is ready.
For the egg break the egg and spill the content in a boil, add a pinch of salt and seasoning, add onions, and a small number of sliced tomatoes and pepper. Stir everything for about 5minute Put your pot on the fire and add some groundnut oil after about 3mins pour your egg mixture into the pot Check the egg when it has finally taken shape. When that has happened, bring it out of the pot and spread it on a clean plate Your yam and egg is then ready to be eaten in no time
NOTE: THE PRICES OF FOODSTUFF IN THIS ARTICLE VARIES FROM PLACE TO PLACE ALSO THE METHOD OF COOKING THESE MEALS ARE DIFFERENT. YOU ARE ALLOWED TO USE YOUR DISCRETION .
Got a story? If you've got a celebrity story, video or pictures get in touch with the Dailynaijamode.com entertainment team by emailing us celebritygists@dailynaijamode.com - we'd love to hear from you.